In this post, the Pixels Talk blog would like to send you some interesting and meaningful November quotes.
Best November quotes
"November: The last month of autumn, but the beginning of a new adventure"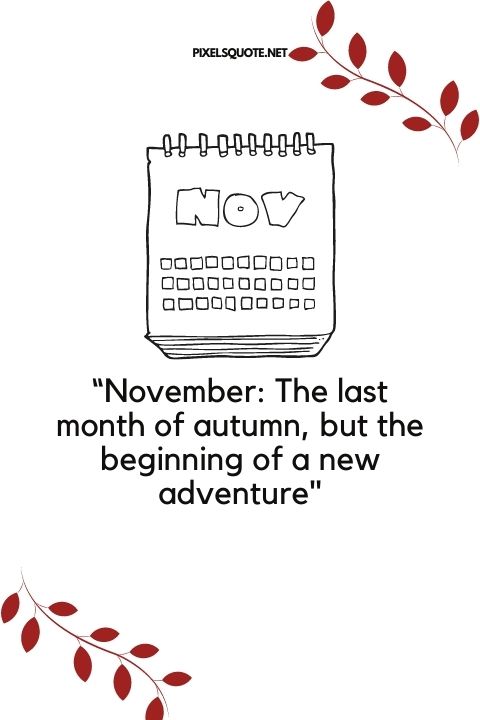 "November at its best—with a sort of delightful menace in the air."— Anne Bosworth Greene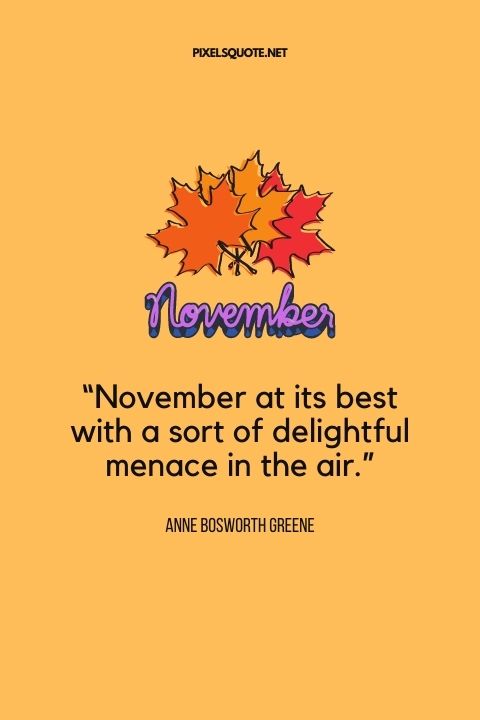 "This November there seems to be nothing to say."— Anne Sexton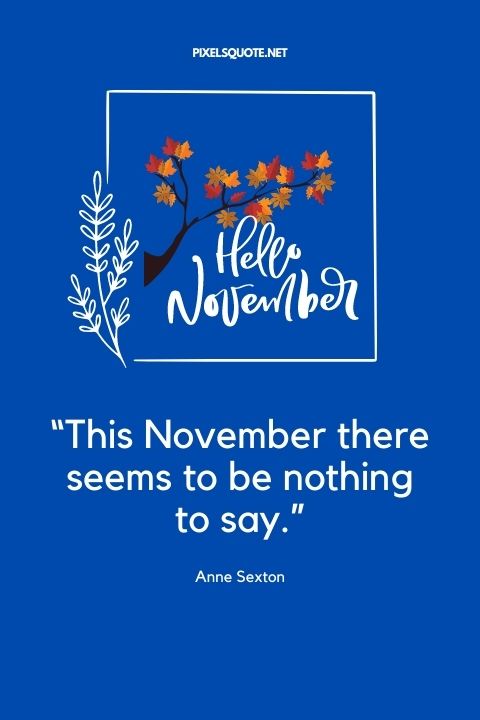 "In November you begin to know how long the winter will be."— Martha Gellhorn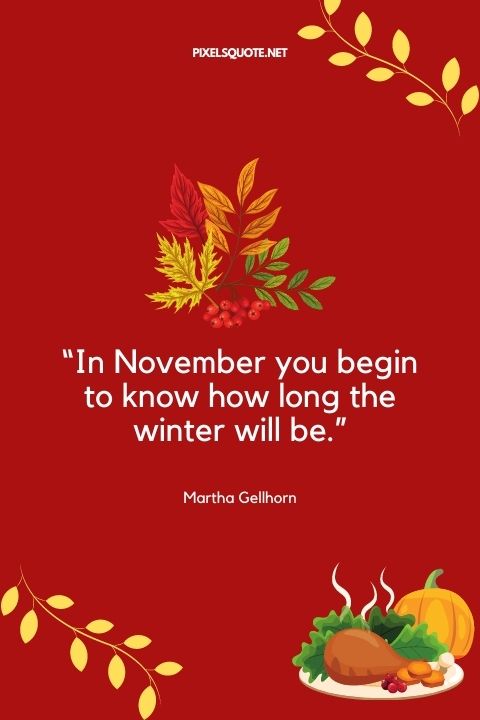 "There is music in the meadows, in the air – Autumn is here;Skies are gray, but hearts are mellow…"— William Stanley Braithwaite
"How sad would be November if we had no knowledge of the spring!"— Edwin Way Teal
"The month of November makes me feel that life is passing more quickly. In an effort to slow it down, I try to fill the hours more meaningfully."— Henry Rollins
"This is the month of nuts and nutty thoughts – that November whose name sounds so bleak and cheerless – perhaps its harvest of thought is worth more than all the other crops of the year."— Henry David Thoreau
"The wind that makes music in November corn is in a hurry. The stalks hum, the loose husks whisk skyward in half-playing swirls, and the wind hurries on… A tree tries to argue, bare limbs waving, but there is no detaining the wind."— Aldo Leopold
"November is auspicious in so many parts of the country: the rice harvest is already in, the weather starts to cool, and the festive glow which precedes Christmas has began to brighten the landscape." – F. Sionil Jose
"Some of the days in November carry the whole memory of summer as a fire opal carries the color of moonrise."- Gladys Taber
"In November, the trees are standing all sticks and bones. Without their leaves, how lovely they are, spreading their arms like dancers. They know it is time to be still." – Cynthia Rylant
"And November sad, – a psalm Tender, trustful, full of balm, Thou must breathe in spirits calm." – Caroline May
"Now in November nearer comes the sun down the abandoned heaven."- D. H. Lawrence
"Fallen leaves lying on the grass in the November sun bring more happiness than the daffodils."- Cyril Connolly
"Spring is brown; summer, green; autumn, yellow; winter, white; November, gray."- Henry David Thoreau
"Spring's wakening bugle long is hushed, long dimm'd is Summer's splendor October yields her easel bright to "black and white" November." – James Rigg
"October's foliage yellows with his cold. In rattling showers dark November's rain. From every stormy cloud, descends amain, till keen December's snows close up the year again." – John Ruskin
See More: November Wallpapers.
Hello November Funny Quotes
"Hello, November! Surprise me."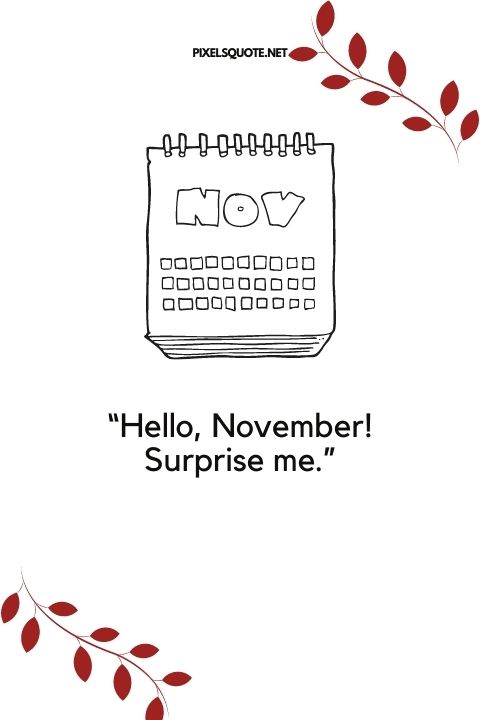 "Hello November, be kind to me."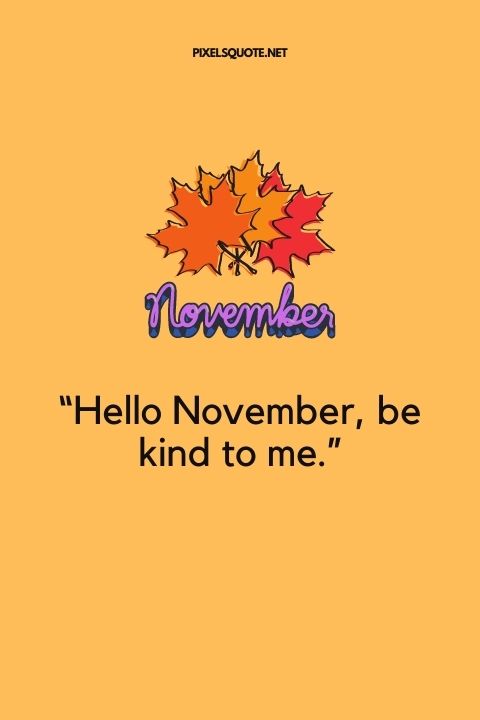 "Hello, November! Be a good month."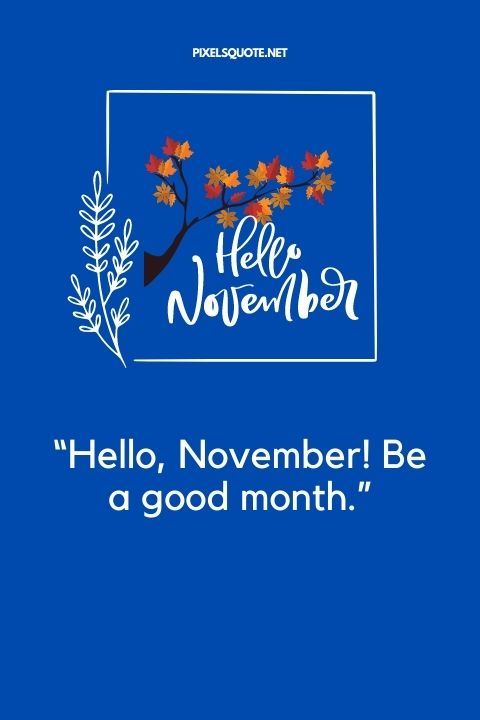 "Hello November, please stay golden."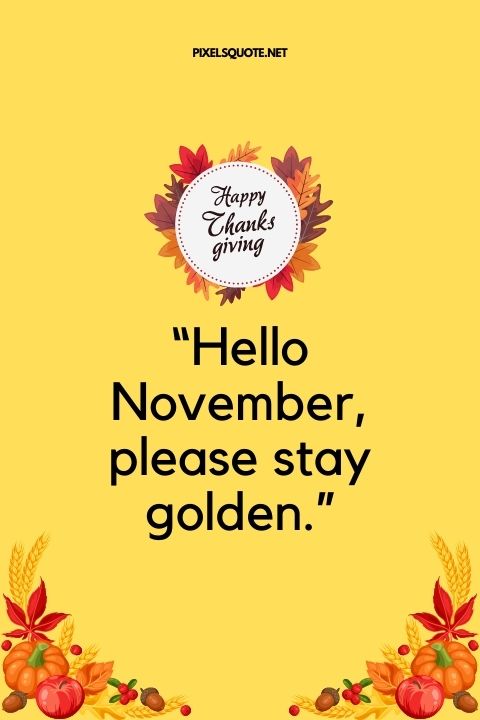 "Special people are born in November."
"Hello, the month of November is here."
"Hello, November! Please be good to me."
"Welcome, November. Be a lucky month."
"Wishing everyone a blessed month of November. All the Best!!"
"Hello, November! Bring more happiness and peace in our lives."
"Hello November! Thank you for reminding us we have so much to be grateful for."
"A September to remember. An October full of splendor. A November to treasure."
"Welcome, November! Wishing you a wonderful month filled with love and happiness."
"Bye October, thanks for the memories. Hi November, I look forward to making new ones."
"New month, new day, new date, new chapter, new page, new wishes. Welcome November!!!"
"Goodbye, October. Hello November. Please be a good month and bring smiles and happiness to my family and friends."
"New month, new beginning, new mindset, new focus, new start, new intentions, new results. Welcome, November!!!"
"The house was very quiet, and the fog we are in November now pressed against the windows like an excluded ghost." – E.M. Forster
"There is October in every November and there is November in every December. All seasons melted in each other's life." – Mehmet Murat Ildan
"It is also November. The noons are more laconic and the sunsets sterner and Gibraltar lights make the village foreign." — Emily Dickinson
"Welcome sweet November, the season of senses and my favorite month of all."- Gregory F. Lenz
Thankful November Quotes
"November always seemed to me the Norway of the year." – Emily Dickinson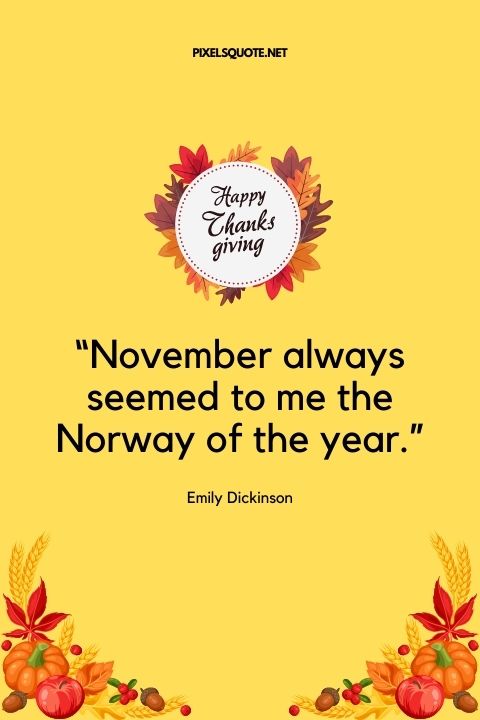 "November is usually such a disagreeable month as if the year had suddenly found out that she was growing old and could do nothing but weep and fret over it." — L.M. Montgomery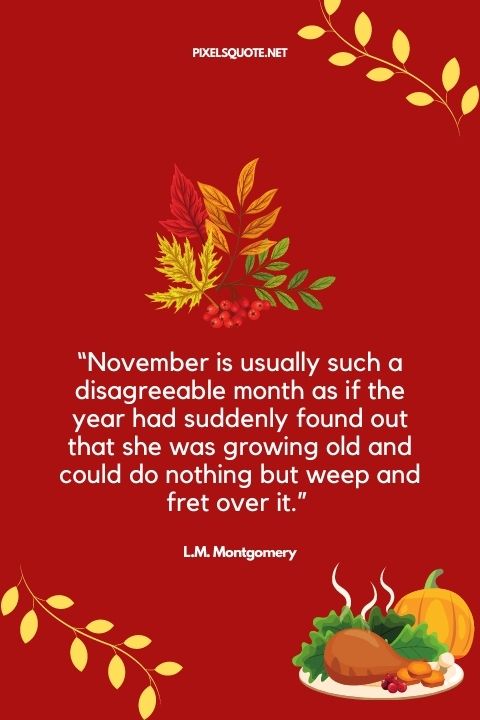 "In November, the earth is growing quiet. It is making its bed, a winter bed for flowers and small creatures. The bed is white and silent, and much life can hide beneath its blankets." – Cynthia Rylant
"A barren realm of withered fields, bleak woods, and falling leaves. The palest morns that ever dawned, the dreariest of eves. It is no wonder that she comes, poor month with tears of pain. For what can one so hopeless do but weep, and weep again." – R.H. Stoddard
"The world is tired, the year is old, the faded leaves are glad to die." – Sara Teasdale
"In rough October earth must disrobe her, stars fall and shoot. In keen November, and night is long, and cold is strong nn bleak December". – Christina G. Rossetti
"Even when November's sun is low and Winter flaps his fleecy wings. Thy gold among his silvery snow a solace in the sadness brings." – James Rigg
"So dull and dark are the November days. The lazy mist high up the evening curled, and now the morn quite hides in smoke and haze. The place we occupy seems all the world." – John Clare
See More:  Thanksgiving Wallpapers for iPhone.
And with this, we come to an end of the collection. It was so amazing to have you here. It implies that you loved the collection.