Many beautiful, interesting, and meaningful have been created about beautiful hair over the years. We have compiled hair quotes with beautiful images for you.
Best Hair Quotes
"A woman who changes her hair is about to change her life."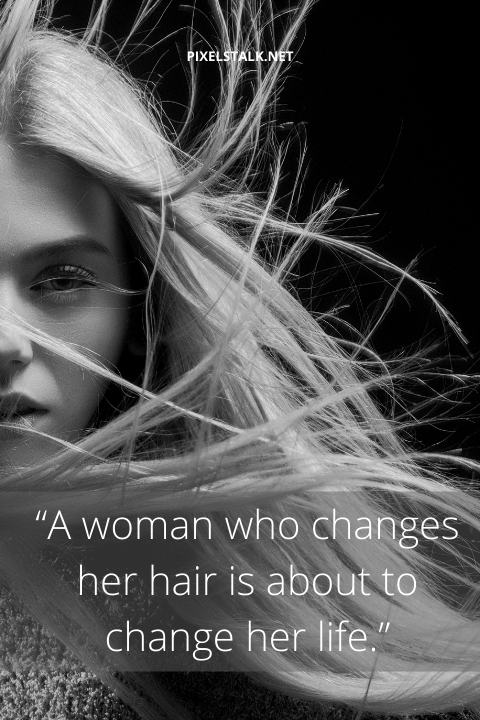 "Invest in your hair… it's the crown you never take of."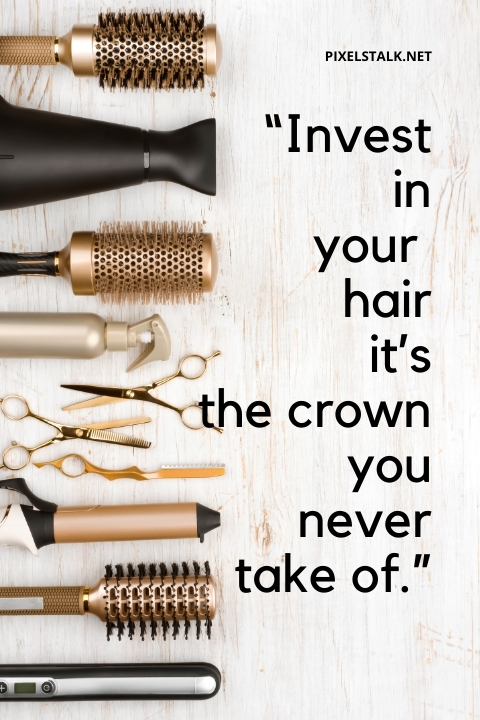 "I regret taking care of my hair – said no one ever."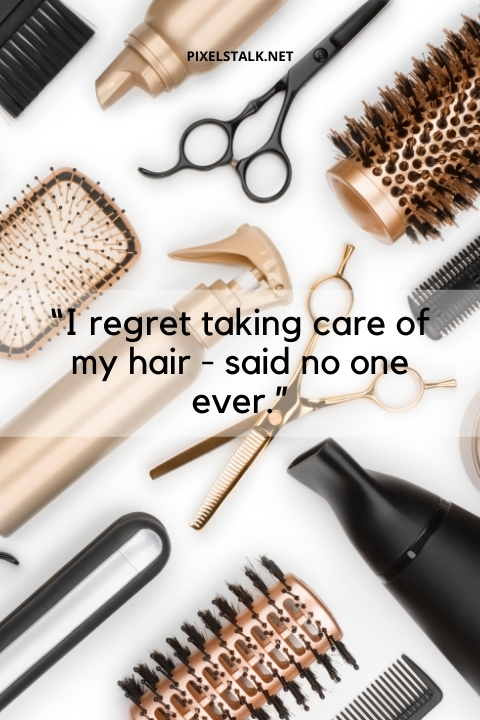 "All I want is for some to look at me the way I look at my hair after a good blow dry."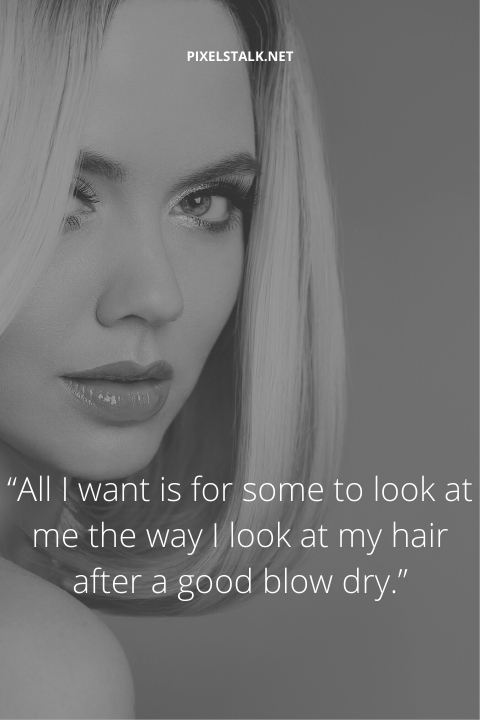 "Let your hair do the talking."
"Therapy is expensive, get a haircut instead."
"After the haircut, there was a profound sense of liberation. Funny how a haircut can do that."
"Good hair isn't by accident, it's by appointment."
"Behind every beautiful woman is a hairdresser who loves her."
Funny Hair Quotes
"If I want to knock a story off the front page, I just change my hairstyle." –  Hillary Rodham Clinton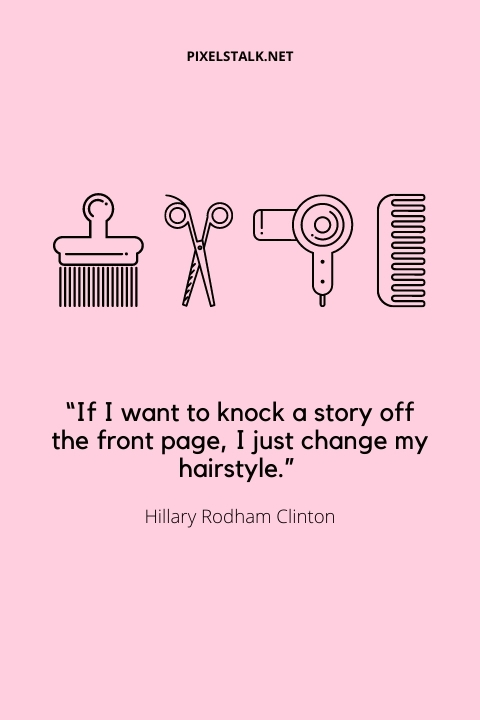 "Your hair is 90% of your selfie."
"I have a new hairstyle today. It's called "I tried"."
"Grey hair is a blessing. Ask any bald man."
"Some girls do a messy ponytail and look like a princess. I do a messy ponytail and look like a founding father."
"I got my hair highlighted because I felt that some strands were more important than others."
"Gray hair is God's graffiti."
"Men don't get smarter as they grow older; they just lose their hair." – Mary Astor
"And then the humidity said today I will make you look like the lion king."
"Beauty comes from the inside. Inside the hair salon."
"Life is more beautiful when you meet the right hairdresser." – Calvin Klein
"Interviewer: so frank, you have long hair. Does that make you a woman? Frank Zappa: you have a wooden leg. Does that make you a table?" – Frank Zappa
"Nobody is really happy with what's on their head. People with straight hair want curly, people with curly want straight, and bald people want everyone to be blind."
Long Hair quotes
"The hair was made for flipping."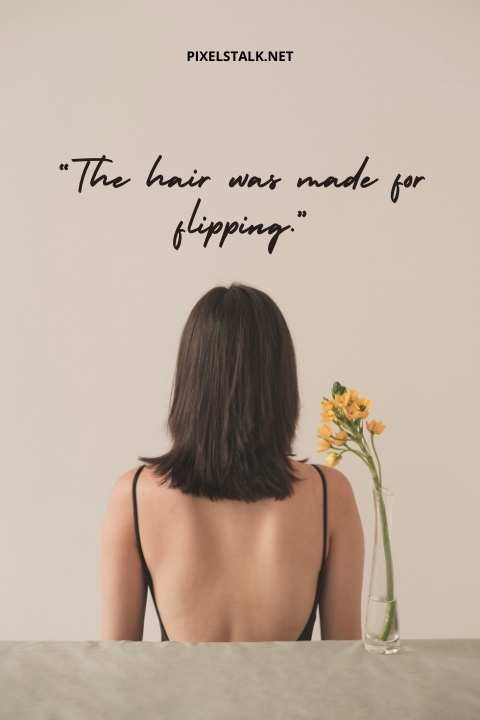 "Your hair is the crown you never take off."
"Love is in the air. Let your hair down and let's have fun."
"Girls become a hundred times more beautiful when they open up their hair."
"The hair is the richest ornament of women." –  Martin Luther
"A lot of people make hair contact before eye contact."
"I recall that day on the beach- the sand so brilliant, the clouds so massive and the wind pushing your hair." – John Geddes
"Good hair is the best revenge and speaks louder than the world."
"I always had long hair. When you lose it, you realize just how important it is to your identity." –  Delta Goodrem
"Long hair is a security blanket for me. I cut it short a few years ago, and I really never want to do that again. When I do cut it, I cut it myself." –  Alanis Morissette
Curly Hair caption Instagram
"I keep my haircurly and natural because I really just wanna show who I am."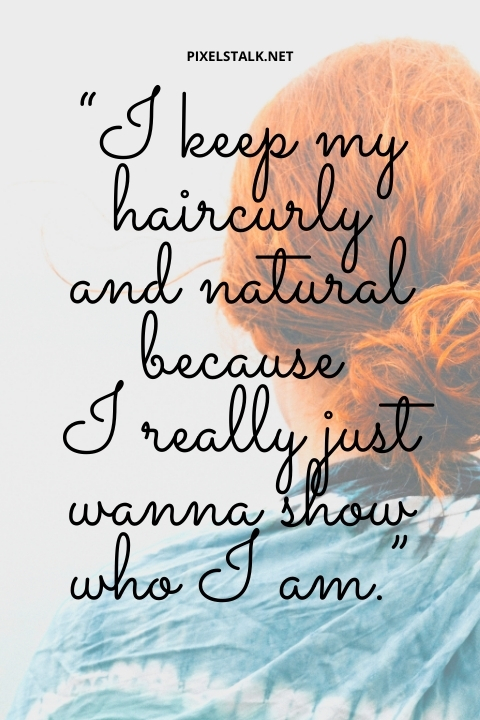 "My curly hair shows who I am. I'm open-minded, careless, sometimes rough just like my curly hair."
"Life is too short to have boring hair."
"Sorry, I can't hear you over the volume of my hair."
"I love my natural curls! Curly hair is not a trend, it's a lifestyle."
"May your curls grow and skin glow."
"Sure my life isn't perfect but my curls are!"
"I'm a queen crowned in my curls."
"My hairstyle is called I tried."
"The struggle of having curly hair; is doing the same hair routine every time and getting a different result, every single time!"
"Beautiful things don't ask for attention."
Straight Hair Quotes
"Straight hair, winged liner, ripped jeans, and a heart of gold."  –  Kiran Kaur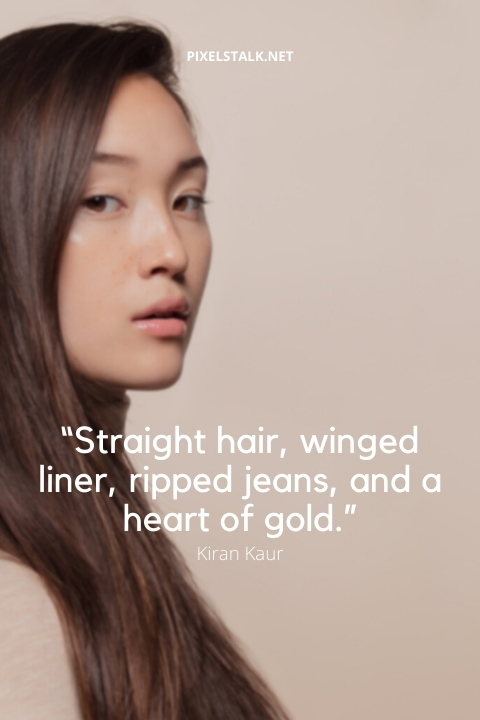 "The most beautiful makeup for any woman is her natural hair and natural beauty."
"Loving your hair when it is perfectly straight."
"I thought if I had straight hair and a perfect nose, my whole career would be different." –  Sarah Jessica Parker
"My hair is naturally really thin and dead straight, with no movement." –  Tamara Ecclestone
"Play with my hair, not with my heart."
"Classic, wet, slicked-back hair is very graphic; it allows the beauty of the face to shine through."
"The happier you are, the more beautiful you become."
"I'm not just any hairstylist. You're not just any client. Together, I promise to unlock the beauty and confidence that chemicals could never do."
"I hope your day is as nice as your hair."
So, what do you think? Which quote did you like the most? Whichever you liked, remember to share them intermediately with your friends on Facebook, Instagram, or anywhere to show your love emotion! Nothing is impossible!
See More: Female Wallpaper, Girl Aesthetic Wallpapers.